Bravo and Team Danielle declined to comment. I would welcome this.
"Real Housewives of New Jersey" breakout star Rosie Pierri on why she decided to come out on TV.
Last season, they flashed me in a few times on the show and I knew I was going to be caught on camera again 'cause I'm with my sister and the kids and Richie [Kathy's husband] a lot. So the viewers — it's not rocket science to figure it out! So I figured they're gonna see some things, maybe [the tabloids] would say some things or whatever. And the kids, I was getting worried about that.

I didn't want them to find out that way. I would rather them be talked to about it before they hear. They're very innocent children, even though they are older. Victoria was 17 and Joey was 15. They didn't know. They don't look at me like that; they look at me as their Aunt Rosie. They see as me as funny, happy, having a good time, kidding around. That's what they see. They don't see somebody who is gay or not gay; they have a loving heart.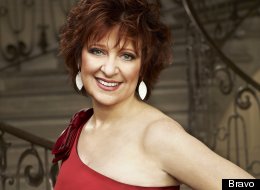 If you're a "Real Housewives of New Jersey" fan (you know you secretly are), then you really need to read Jaimie Etkin's interview with Caroline Manzo. It's very honest, funny and a tiny bit sad, especially this part about her relationship with sister and former "Real Housewives of New Jersey" star Dina Manzo.
And now, most viewers of the show know — from the Season 3 reunion and the Season 4 trailer — that Teresa has driven a wedge between you and Dina. When I first saw that, it broke my heart. How are you two now?
It's the same. And if it breaks your heart, can you imagine how I feel? I remember the day she was born. I decorated her cradle. I remember when my mom told me she was pregnant with her. I'm 11 years older than Dina. She's more than my baby sister, but again, I have never shied away from anything negative and I've said many many times, "Look at the footage." We fight. I'm one of 11 kids. We fight all the time. And a fight can last a day, a week, a month, a year, who knows? But we always come back, and Dina will be back.

It's not just me. If it were just me, I would have to look and say, "Okay, Caroline. What'd you do? What'd you say?" And I don't know and I still don't know, but I'm going to leave it at that. Whatever beating I take in the press and through the court of public opinion, I'm willing to take that beating because I won't hurt my parents. I don't want to make this into something bigger than what it should be. It's a very personal thing. It's a very hurtful thing. But in time, we will mend and quite frankly, the only people that I have to worry about what they feel is my family. And I will always behave in a manner that will make them proud and I'll show my kids that sometimes, you gotta take a little beating in life to do the right thing. I'm willing to take the beating.